In light of certain recent possible zombie activity, the story of which is swarming over this site like the gnawing horde's of its content i feel it is important to take a look at our preps and ask ourselves are we truly ready. that in mind i ask all how are willing to post pictures of your supply's. water food and what ever else you find fit to share with us. i for one am hoping this all to be a false alarm because i am not ready.
Water:
(this is my current water supply. in this closet i have just about36 galleons of water. which will last my family of four just nine days. assuming of course the red cross recommended one gallon per person per day. how ever i also have a
water bob..
which gives me an additional hundred gallons by letting my safely fill up bath tub with water with out fear of contamination. which gives me "assuming i have time to use it" a total of 136 gallons or 34 days or nearly five weeks or over a months worth of water for my family.all of this not counting the 75 gallons in my hot water tank and in the sinks i plan to fill up. perhaps not enough water but its something.
Food:
(i fear I'm not doing as well on food as i am on water. that pic contains in it all the stored food i have at the current time. not counting the pack of mainstay bars in my bug out bag that's enough for one person for three days. i recently fell on hard times and had to use up my previously stored food supply and i just began to replenish it.. i do have my normal supply of food that i live on. and if i eat sparingly and consume perishables first i may have an extra week to two weeks worth. maybe. again I'm not in the best position, food wise. how ever unlike the rest of my family I'm over weight and i know from past experience i can go over a month with out eating and still be fully functioning. so i probably will go with out eating which will give them a bit more time.
*UPDATE*
Well since my food stock were dangerously depleted i went down to the local Pathmark. not my first choice expensive but i didn't have the car and it was with in walk distance and i bought 87 dollars worth of shelf stable food. and here it is my newly stocked survival pantry.

*UPDATE*

So the first of the month has come and gone and with it my monthly trip to the store to buy as meany supply's as i can with a hundred dollars. after hitting up my local dollar store, which i love cuse i managed to get almost everything for a dollar, here is my updated supply.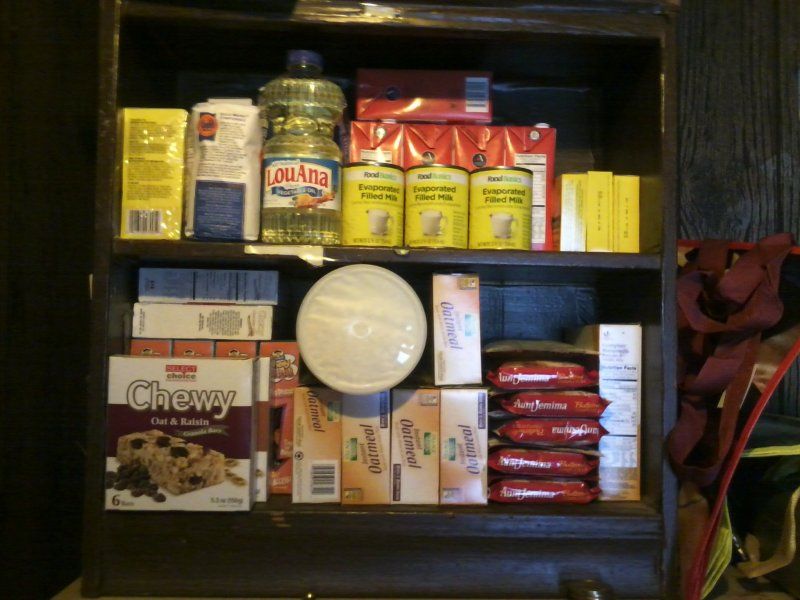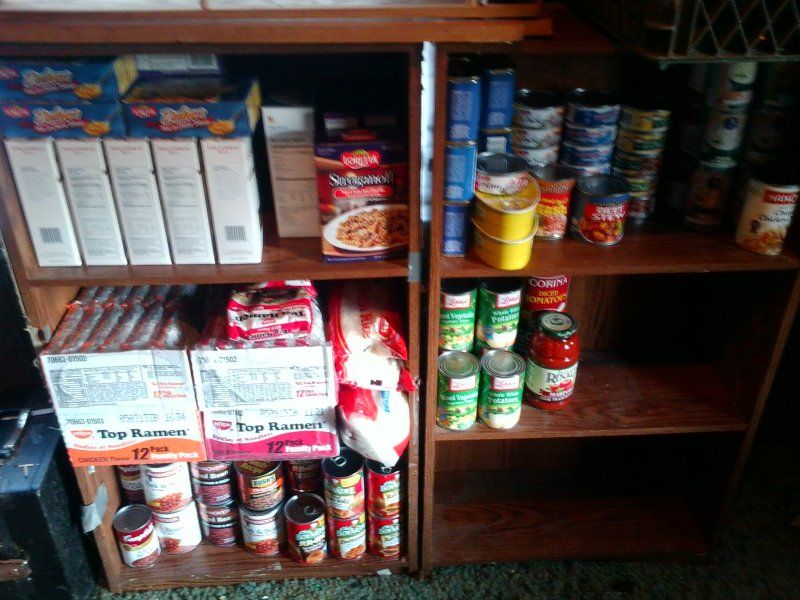 but food isnt the only additions I've made to my "War Room". thanks to the neighbors moving away i manged to get this great new storage cabinet for free, they were jsut throwing it away.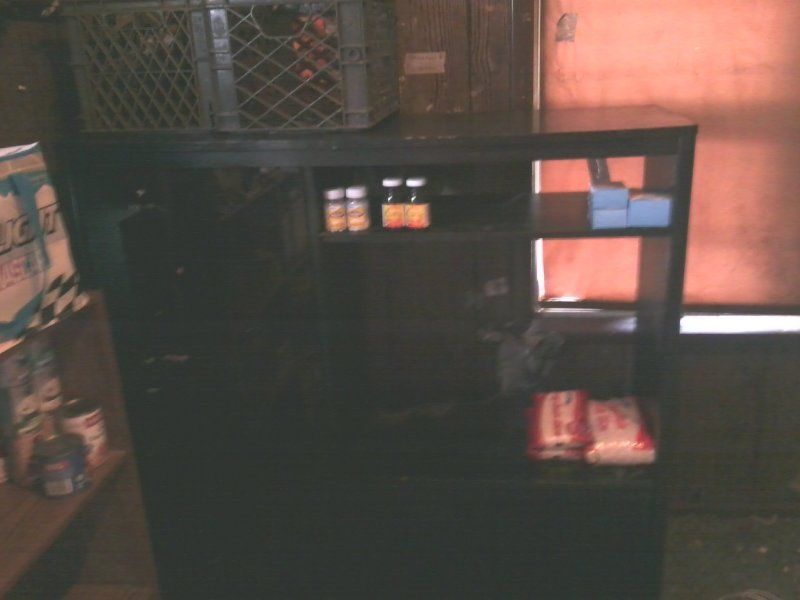 i also managed to pull this great chalk and bulletin board from their trash too. i always say when free take as much as you can.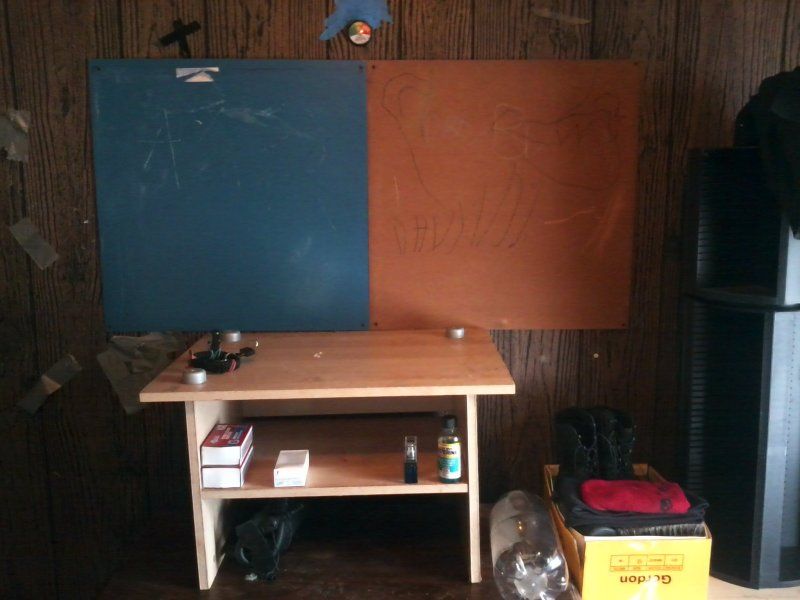 that little table is also garbage picked but not from the neighber my mom found it a couple of years ago. and just for the hell of it here's a pic of my work bench.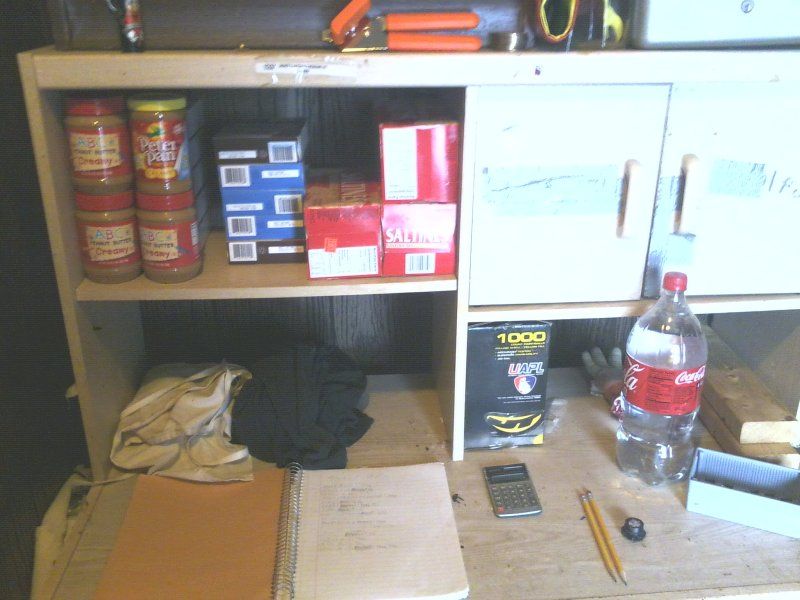 and there you have it my War Room, for now that is I'm always trying to make it better.
NOW ITS YOUR TURN PEOPLE LETS SEE YOUR WAR ROOMS!!!