It goes with out saying that everyone here loves zombies, but it also goes with out saying that there are as many different kind of zombies as there are zombie fans. from the classic slow moving Romero type zombies that we all grew up on. to the 28 days later zombies that brought the idea of fast infection type zombie to our attention. and many many more. now we all have are our own individual preference for zombies but what if you had you choice between two different types of zombies. which would you chose, well that's what we're here to discuss. in this opening discussion lets delve into the realm of video games where zombie mutation has taken on strange new twists. today's contestants are  from DEAD SPACE in the red corner. the Necromorphs: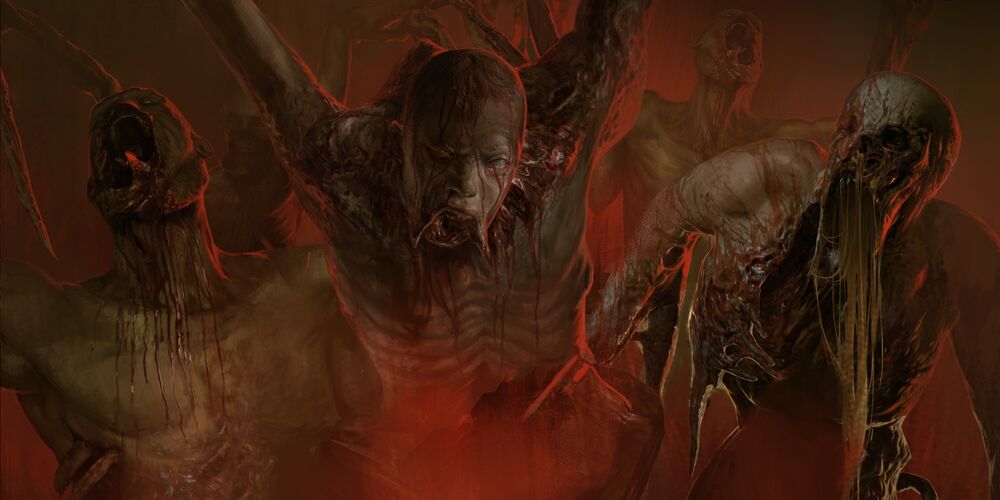 these reanimated corpses of the dead, reshaped into horrific new forms by a recombinant extraterrestrial infection. The resulting creatures are extremely aggressive, and will attack any uninfected organism on sight.The sole purpose of almost all Necromorphs is to create more bodies to infect and spread the infection. They are believed by some to be the heralds of humanity's ascension, but on a more practical level are the extremely dangerous result of exposure to, and tampering with, the enigmatic devices known as Markers. they come in many verity's each containing its own strength and weaknesses. but what they all have in common is a need for "Strategic Dismemberment" as best summed up here.
"Take their legs out, and they'll drag themselves toward you. Shoot off an arm, and they'll use their other arm to rip into you. Nope, the only real way to take these creatures out is to completely rip them apart."
thats right straying from tradition this band of space zombie can not be killed with a shot to the head nor should it ever be tried. with the only way to put them down for good lying in complete Dismemberment. this galactic parasite proves an interesting and deadly enemy".
next we have from an equally long running video game franchise specializing in team extermination we have the "special infected" from "left for dead"

like the previously mentioned necromorphs these zombies also come in many types each with its own respective powers and vulnerabilities. these more down to earth zombies still prove a threat but also stick to the more traditional mean of dispatch-meant. ie a bullet to the head will stop them.
well there you have it our two contenders, so if you had the choice of entering one these perspective worlds and doing battle with these undead foe's which one would you chose and why? next Saturday we will tally up your votes to see who is our "PICK OF THE DAMNED"! and then we'll be back with two new choices of reanimated terror.